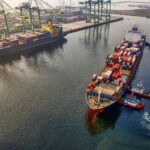 Your Trusted Bunker Partner

Who we are
PT Indofuels Limited was established in 2012 as a bunker supplier for the port of Hong Kong. We have now expanded our scope of business to encompass activities such as the trading of marine fuels, lubricants and vessel services. We are committed to providing our customers with exceptional service at competitive prices. We also aim to further diversify our global network with select partners.
Since entering the Hong Kong market, we have established ourselves as being a reliable partner. We have a dedicated bunker team armed with complementary skills and market knowledge. Indofuels prides itself on exceeding industry standards to deliver top quality service.

         Our Strength
Indofuels invests abundantly in cultivating company credibility and becoming a trusting partner in the industry. We have continuously sought to strengthen our finance foundation to operate at optimal terms with our valued customers. We are also proudly supported by established finance houses and valuable investors from Singapore and Hong Kong.
Our Partners
Indofuels provides only the best service, price and quality. We understand the significance of providing the latest market and industry news to our customers. This helps them to optimize their respective business strategies. We are delighted with our continual support from our existing business partners. We are always on the lookout for mutually beneficial business opportunities.
Our Value
Indofuels believes in effectively uphold environmental awareness in the industry. We aim to reduce harmful emission in the course of work. Our people pay due attention in complying with protocols to protect the Earth. We closely communicated with our valued customers in taking appropriate environmental measures.
ESG
As market leaders we strongly believe that true greatness can only be measure by what we do for our people, our partners, our communities and ultimately the world.
Learn more
Michael Yau
Sales Manager
m.+85 29138 7311
Yen Long
Senior Bunker Trader
m: +84 93 2914 196
Mai Duong
Senior Bunker Trader
m.+84 70 8081 966
Truc Le
Marketing Executive
m.+84 34 4541 927
Speak to our experts
Our people think differently. We are an independent, privately owned, company with team members drawn from a wide variety of maritime backgrounds. We are passionate about finding new ways to help you run a cleaner and more efficient fleet, telling it straight and being transparent and inclusive.
Contact